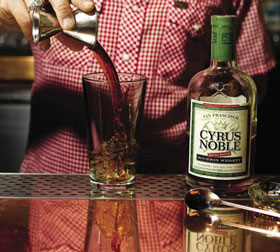 San Francisco's first locally owned brand of bourbon, Cyrus Noble ($24.99/750ml)–bourbon made in Nelson County, Kentucky, but owned and distributed by Haas Brothers–is available again. Named after a distiller who fell into a vat of his own whiskey, the bourbon was sold in the city since 1871, right around the peak of California gold rush fever. Apparently, he didn't die in the fall, but if anyone offers you a drink of Cyrus Noble from 1871, you might not think twice, just in case.
Made with a mashbill that contains 75% corn, 20% rye, and 5% malted barley and aged for 5 years in new white American oak barrels, the whiskey is a whopping 45% alcohol by volume, which undoubtedly helped fuel the reputation of the Barbary Coast.
The bourbon itself has plenty of vanilla with spiced flavor from the rye and oak that blend nicely. Most surprising is how easy it is to sip neat despite it's high proof.
Cyrus Noble Blackberry Lemonade
Ryan Fitzgerald, Beretta
2 oz Cyrus Noble Bourbon
1 oz Lemon Juice
1 oz Leopold's Rocky Mountain Blackberry Liquor
1/2 oz Gum Syrup (Small Hand Foods)
3 oz Seltzer
Shake all ingredients but seltzer with ice. Add seltzer, then strain into an ice-filled Collins glass and garnish with a mint sprig.
Read the article on SF Weekly: Cyrus Noble Bourbon Returns to San Francisco